Dr. Sarah Parker is the Director of Human Factors Research at Carilion Clinic, Senior Director of the Center for Simulation, Research and Patient Safety, an Assistant Professor in the Virginia Tech Carilion Research Institute, and the Department of Biomedical Science in the Virginia Tech Carilion School of Medicine. She has over 10 years of experience applying human factors and industrial/organizational psychology principles to healthcare. Sarah Parker received her BA in psychology from Wittenberg University in Springfield OH and her MA in human factors and applied cognition from George Mason University in Fairfax VA. Prior to pursuing her PhD, she worked at Mayo Clinic applying human factors principles to various inpatient quality and safety challenges. She worked specifically with the Division of Cardiac Surgery as a human factors researcher, developing multiple safety interventions specifically designed for the cardiac OR. She then pursued her PhD at University of Aberdeen in Scotland, developing and validating the Surgeons' Leadership Inventory, a behavioral marker tool to investigate leadership in the intraoperative setting. She was a Ruth L. Kirschstein Post Doctoral Fellow, funded by the Agency for Healthcare Research and Quality, focusing on team coordination during trauma resuscitation. She is currently working on multiple projects focused on utilizing innovative measurement techniques in situ and in simulation funded by the Robert Wood Johnson Foundation, the Agency for Healthcare Research and Quality, the State of Washington and Carilion Clinic. Dr. Parker's research interests include team performance and communication in high risk settings, applying innovative methods to better understand human performance, medical education on patient safety, and human factors applications within healthcare. She has presented at numerous national and international conference and published over 50 peer reviewed articles and book chapters on human factors and patient safety. Most importantly, Dr. Parker and her husband Michael are parents of Layla, Jack and Miles.
Dr. Laurie Wolf is the Director of Human Factors Implementation at Carilion Clinic. Laurie is a Certified Professional Ergonomist with a PhD in Human Factors & Ergonomics from Loughborough University. She is a Certified Six Sigma Black Belt from the American Society of Quality. She has over 20 years of experience in the healthcare environment and has published over 20 peer reviewed articles and 3 book chapters. Her interests include improving safety for both patients and staff. She has achieved outcomes such as preventing accidents, increased productivity, lowered injury rates, and reduced worker compensation costs by implementing appropriate ergonomic interventions in industrial and hospital environments. Her recent healthcare work involves quality improvement projects to achieve efficient processes and error proofing that result in a safe environment for staff and patients. Outcomes include 25% reduction in falls, over 30% reduction in pressure ulcers, 80% improvement in physician communication and decrease length of stay and discharge times.
Matt Jesso is the Human Factors Specialist with Quality & Patient Safety at Carilion Clinic assisting in usability testing, observations, consultations, and more. Prior to coming to Carilion, Matt had worked for several years in direct patient care for behavioral health services in Northern Virginia and understands the value of Safety in the workplace for patients and staff.  Matt received his Masters in Human Factors & applied Cognition from George Mason University and is an Associate User Experience Professional from the Board of Certification in Professional Ergonomics. His dog Chi-Chi runs his life and makes all important decisions as to when to eat, when to go for a walk, and monthly budgets regarding treats.
Whitney DeLong  is the program assistant for the laboratory of Dr. Sarah Henrickson Parker. She provides administrative support and oversees research project logistics. Whitney has been an employee of The Fralin Biomedical Research institute since May of 2015. She graduated from Hollins University in May of 2013 with a bachelor of arts in Psychology and a minor in Business. Lastly, Whitney and her husband Eric are parents to Will, Carson and Hallie.
Vivian Zagrese is a Ph.D. candidate in Industrial and Organizational Psychology at Virginia Tech. She graduated with a bachelor's of science in clinical psychology and a minor in organic chemistry at the University of California, San Diego. Her research interest revolves around the study of leadership and teams in high stress environments. Her current project involves examining leadership in the operation room during the surgical time out. Vivian lived in Italy, France and Spain and likes to travel. She also enjoys cooking, line dancing and doing CrossFit.
Franklin Edwards is a Ph.D. candidate in Translational Biology, Medicine, and Health at Virginia Tech. He graduated with a bachelor's of science in neuroscience and psychology at Virginia Tech. His research interest revolves around the study of implementation practices and rural health. His current project involves developing simulation scenarios relevant to opioid overdose emergencies and creating a measurement tool for the assessment of healthcare professionals and laypersons in opioid overdose resuscitation. Franklin is from an Appalachian community in southwest Virginia.  He enjoys hiking, tennis, and traveling. 
Stephanie Tulk-Jesso is a current doctoral candidate at George Mason University in Human Factors and Applied Cognition. Her research interests include applied human factors, artificial intelligence, cognitive modeling, social robotics and healthcare.
Harsh Sanghavi is a Human Factors Consultant with the Human Factors team at Carilion Clinic. His work with the team involves conducting usability studies on products, software, and systems used by Carilion Clinic, ethnographic observations of health care workers, and using human factors principles to improve processes, patient safety, and the quality of care. Harsh received his M.S. in Industrial and Systems Engineering from Virginia Tech, with a focus on Human Factors Engineering and Ergonomics. While at Virginia Tech, he worked at Mind, Music, and Machine Lab to help evaluate the usability and the user experience of in-vehicle user interfaces in automated vehicles. His research interests have allowed him to work on automated vehicle user interface design, affect, human-computer interaction, computer-supported collaborative work, and human-centered design. Outside of work, Harsh enjoys playing tennis, cooking, and watching football.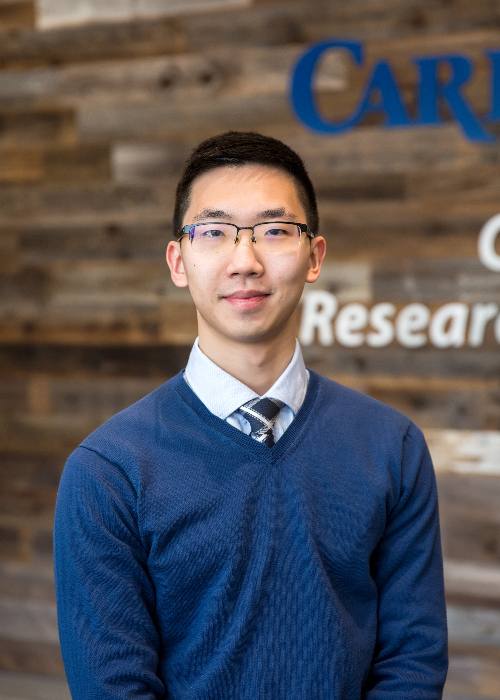 Yuhao Peng works as a Human Factors Specialist on the Human Factors team at Carilion Clinic. The team and he focus on usability testing, data analysis, and various assessments to build and sustain a safe patient care and an effective work environment. Yuhao received his M.S. in Industrial Engineering, with a specialization in Human Factors and Statistics, from Purdue University. During his time at Purdue, he derived quantifiable objective communication metrics in clinical settings to predict healthcare providers' performance; he also has experience in evaluating the workplace and solve related ergonomic problems in manufacturing settings. Yuhao is passionate about improving work environments, human-system interactions and making meaningful impacts on patients and healthcare providers. In his free time, you can find him either hiking, traveling or drinking bubble tea.
Jacob Hartman-Kenzler grew up in Berkeley, CA and graduated UC Davis in 2011 with a B.S. in Exercise Physiology. He then worked for several years in medical device and pharmaceutical development before completing a M.S. in Biomedical Science at the Icahn School of Medicine at Mt. Sinai in New York City. He is now working towards his M.D. at Virginia Tech Carilion School of Medicine with an expected graduation date in May, 2022.
Allison Strauss is a M.D. candidate at the Virginia Tech Carilion School of Medicine. She graduated with a bachelor's of science in human science from Georgetown University in Washington, D.C. She is currently a part of the Factors in Opioid Overdose Response: Simulation and Evaluation (FORSE) research team, aimed at developing opioid overdose simulation scenarios and creating an assessment tool to measure the efficacy of rescuer performance. Allie is a California native, hailing from the Bay Area, and enjoys the beach, physical fitness of all types, and a great cup of coffee.